Autobiography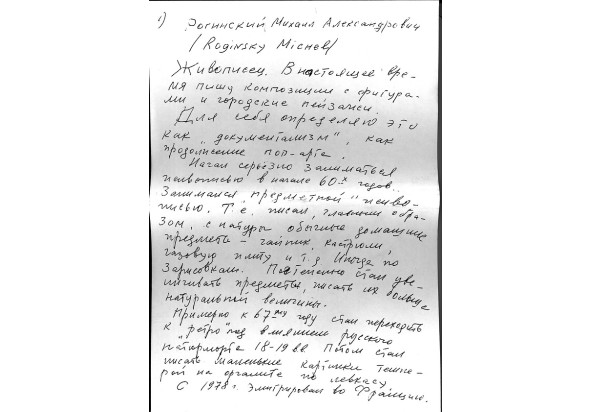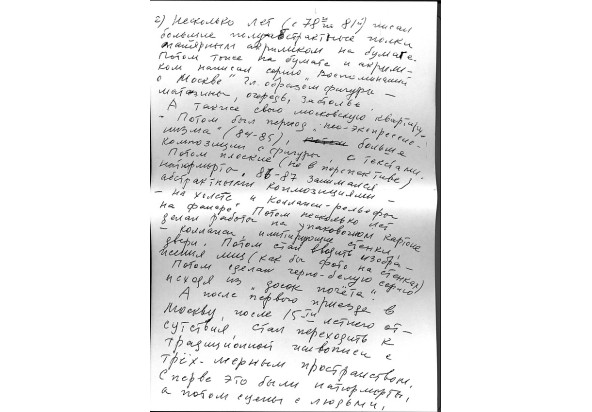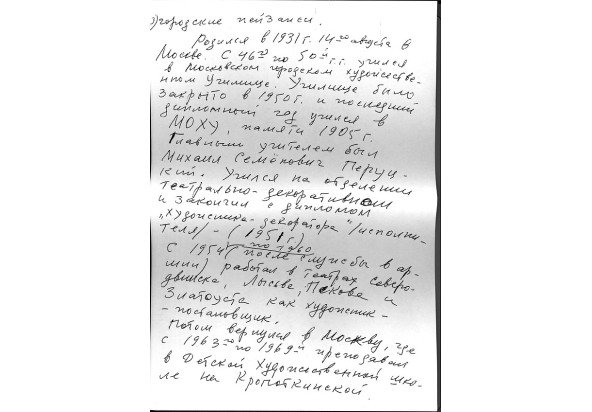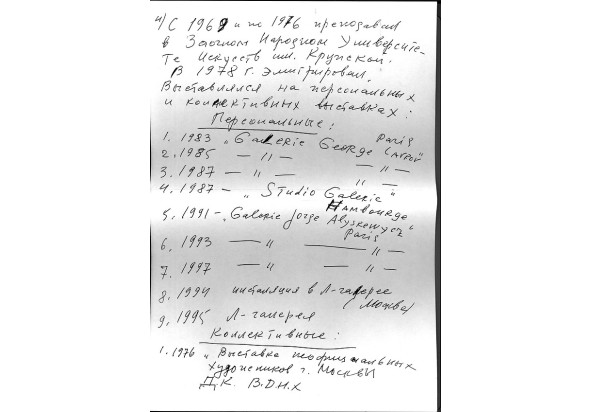 Mikhail Roginsky. An Artist. At the present time painting compositions with figures and city landscapes. I personally determine it as "documentalism", as an extension of pop art.

I began seriously do painting in the early 60s. Was practicing "objective" art. I.e. mostly painted common homeward from nature – a teapot, a cooking pot, a gas-stove. Sometimes from sketches. Gradually began to scale the objects up, show them bigger than they appear in real life.

About 1967, influenced by Russian still life of 18-19th centuries, I started doing more "retro". Later painted small pictures with tempera on primed orgalit.
In the year 1978 emigrated to France. For several years (from 1078 to 1981) painted big half-abstract shelves with paint acrylic on paper. Later, also with acrylic on paper I painted the series "Remember Moscow". Mostly figures - shops, a queue, a feast. Also my apartment in Moscow. A period of "neo-expressionism" came afterwards (84–85) – more of compositions with figures, texts. Then flat (out of perspective) still lives. 86-87 had been doing abstract compositions - on canvas, and relief collages on plywood. After that several years of works on packing board - collages, imitating walls, doors. Later I began to include images of faces (as if photos on the walls). Then made black and white series coming from "boards of honour". After my visit to Moscow, first in fifteen years, I got onto a traditional painting of three-dimensional space. First these were still-lives, and then scenes with figures, city landscapes.

Was born 1931, Moscow. From 1946 to 1950 studied at the Moscow State Art School, which was shut down in 1950, so the graduation year I spent in the "Memory of 1905" Moscow Art School. Mikhail Perutsky was my main teacher. I studied scenic painting and received a diploma of scene painter /a contractor/ (1951)

From 1954 to 1960 (after the Military) I worked in theaters of Severodvinsk, Lysva, Pskov, Zlatoust as a theater designer.

Then returned to Moscow taught at the Moscow City Art School on Kropotkinskaya Street from 1963 to 1969.  And then at the Krupskaya Distance Learning People's University of the Arts until 1976.


In 1978 emigrated. 

Mikhail Roginsky